Maths
'Mathematics is not about numbers, equations, computations or algorithms: it is about understanding' William Thurston
As a school, we believe that enjoyment in maths leads to excellence. The curriculum below shows a coverage of the core topics which are covered to meet all three areas laid out by the National Curriculum (reasoning, problem solving and fluency). However, even more importantly, we believe that maths should involve games, play and discovery to help foster a love on maths and to instil a belief in ones own ability.
Curriculum
Below is the curriculum that we follow for maths in school ensuring coverage across all topics.
Assessment
Below are the sheets that we use to inform 'teacher assessment'; allowing teachers to assess the attainment of our children.
Websites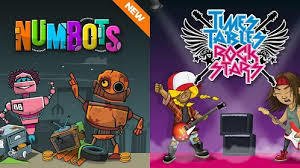 As a school, we subscribe to numbots and Times Tables Rock Stars. We strongly encourage children to use these websites to hone their basic skills. All children have access to both of these programs, which can be used on most phones, tablets and computers. If you have any difficulties login in, please contact your class teacher.